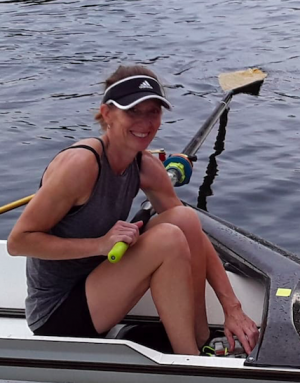 What rowing moment you are most proud of?
I have had such fantastic moments in rowing, both 30 years ago and now, in the last three years, when I got back into the sport. A few that stand out are winning the Frostbite Regatta as a freshman in the Novice 8, being selected Captain of the Notre Dame Women's team by my teammates my senior year and recently, earning my USRowing coaching certification and being able to coach adult Novice rowers this past summer.
How has rowing shaped you?
I was not a very confident young woman or athlete in high school. Rowing in college challenged me physically, emotionally and socially, taking me out of my comfort zones. The schedule…those 4:15 am alarms, two a days, travel…forced me to become very proficient in time management and organization, developed my confidence, leadership and communication skills as well as how to truly collaborate and work with others through positive and challenging experiences.
What's the biggest challenge you've had to overcome to row your best?
My size! I am, and have always been, pretty small (think the old flyweight division!).  I always feel like I have to prove myself, that I can, and do, pull my weight, that I deserve to be in the boat. Changing that mindset is something I continually work on as well as working on strength and endurance through my other athletic endeavors. 
What are the biggest life lessons you've learned from rowing?
Rowing taught me that success comes in many forms, but always necessitates commitment and hard work be it our athletic, professional or personal lives. Life is not an easy thing….Rowing helped me realize at a young age that we don't have to go through it alone, that we can trust others to be there for the high and low points. 
What inspires you to keep rowing?
I feel like my life would be incomplete without being able to be on the water in a boat and making it move through sheer physical and emotional determination. There is something so powerful, spiritual about this sport which no other activity has even come close to accomplishing for me. I don't want that to ever end. 
What club or team are you currently rowing with?
The "Notre Dames" and South Bend Community Rowing.
What do you like most about rowing a single or with others?
The ability of like-minded individuals working as one to make a boat powerful and fast. There is nothing like hearing the water run under the boat, feeling that swing! The trust that is involved to make that happen is pretty awesome in the truest sense of the word. 
What are you currently working towards as a rower? as a competitor?
As an individual rower, always technique, but also, because I am smaller, increasing my power. I want to be an asset to my boat, to my teammates! As a competitor, I want to be able to walk on other boats in races, to help my crews achieve our goals of racing well and, hopefully, earning some hardware in the process.
What advice do you have for other women rowers?
Work hard, enjoy the journey, have your teammates' backs and, most of all, love the power and strength you have as a woman and athlete!
If you'd like to share your story in our "Amazing Women Masters Rowers" series, please email contact@whywerow.com.