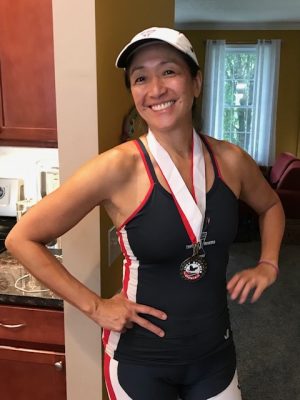 What rowing moment you are most proud of?
My second year on my current team, I competed at the Pittsburgh Indoor Sprints and won a Silver medal in my age group. Although I was far behind my teammate who came in first – who did well enough to qualify for CRASH-Bs with her time – I had pushed myself harder than I ever had before, and I felt a sense of possibility and potential for what I might accomplish in the future.
How has rowing shaped you?
I come from a music and theater background and have never been on a sports team before. Being on a team with so many powerful, talented, impressive women, I waver between feeling a case of "imposter syndrome" and feeling proud and awed to be in their company. I am learning how to live in this space and working towards feeling less of the former and more of the latter. I'm learning that we never stop growing.
What's the biggest challenge you've had to overcome to row your best?
Haha – getting out of bed at 4:20 am to go to practice during Indoor training season, especially if I know I have a 12 hour workshift afterwards.
What are the biggest life lessons you've learned from rowing?
Never stop learning and improving. Keep going when you feel like giving up. 
What inspires you to keep rowing?
My mother died at the age of 61 (I'm currently 57). Not knowing how much time I have left on this earth, I want to "live deliberately" and to "suck out all the marrow of life," as Henry David Thoreau said. 
What club or team are you currently rowing with?
The Competitive Masters Team (AAA) at Three Rivers Rowing Association in Pittsburgh, PA. 
What do you like most about rowing a single or with others?
I don't "like" rowing a single yet, but I've started going to Craftsbury every spring to try to improve my technique and confidence. So hopefully, someday, I will be less terrified and like it more!
I do love rowing with others, to feel the power and rhythm when we are synchronized. As a singer and musician, I love nothing more than the synergy of a perfect blend.
What are you currently working towards as a rower? as a competitor?
I am trying to overcome fear of the pain that comes from pushing harder. I am afraid of pushing too hard and not being able to complete a workout, but I need to get to the other side of that.
What advice do you have for other women rowers?
Just keep moving. And help each other. 
If you'd like to share your story in our "Amazing Women Masters Rowers" series, please email contact@whywerow.com.