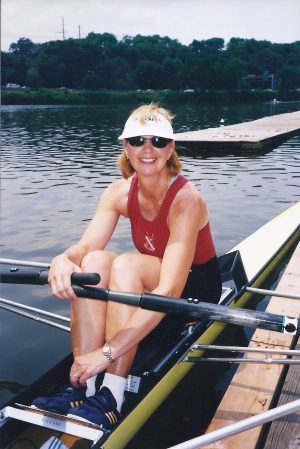 What rowing moment you are most proud of?
I raced in a 2.5 mile regatta with my younger son Samuel Franklin when he was in high school in the mother/son event. Racing with your child is the most gratifying. And we won the race! 
How has rowing shaped you?
It has made me a better leader; I manage and captain a women's 60 plus eight: it has provided me with the opportunity to engage with a local, national, and international group of masters athletes on a competitive, organizational and operational involvement in the sport; provided me with the opportunity to contribute to the welfare of young women and athletes on the road to the Olympics. As a member of its Board of Directors, contribute to the legacy and historical equity of the Vesper Boat Club; raise the profile of women's masters on a national and global scale. 
What's the biggest challenge you've had to overcome to row your best?
I have had two major health challenges in my life. Overcoming them and focusing on better health and getting back in the boat. Even on days when I don't row well or I'm tired. My daily rowing routine helped me mentally and physically overcome the challenges during these serious health crisis.
What are the biggest life lessons you've learned from rowing?
Humility, leadership, determination, discipline, the value of silence. Sweat!
What inspires you to keep rowing?
It is great to have a sport when you are older. Rowing allows you to use every muscle. The idyllic setting of the Schuykill River is certainly up-lifting. Solitude and inner strength.
What club or team are you currently rowing with?
Vesper Boat Club
What do you like most about rowing a single or with others?
How wonderful it is to sit in the middle of a body of water and repeat the same task multiple times. Truly Zen-like. I like practicing in my single as it gives me a chance to work on technique and strength on my own. A team boat is the single most challenging exercise in life. I also like the camaraderie of rowing in a team boat. In an eight when the boat is set and all are swinging together. Feels great!
What are you currently working towards as a rower? as a competitor?
I always set a goal of rowing 1000 miles per year. I like training for an upcoming regatta and working out a few times a week. I also enjoy the companionship of my teammates and fellow competitors.
What advice do you have for other women rowers?
Get on board. Jump in. Make the time to commit to practice and set your own goals. It is the best thing you can do for yourself.
If you'd like to share your story in our "Amazing Women Masters Rowers" series, please email contact@whywerow.com.