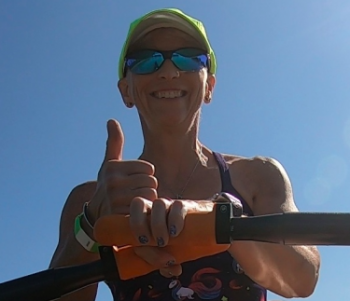 What rowing moment you are most proud of?
My bronze in the single at Nationals in 2018. I had a terrible start, floundered and was behind the first half. Then was determined not to let her beat me, so kept up the power and just managed to nip her at the line. It was my first year racing a single, and had only been sculling for just over a year. 
How has rowing shaped you?
Physically: I am in the best shape of my life – since rowing in college in 1983-1985. I row lightweight, so I follow a diet my coach suggested, and it has made a massive difference in how I feel and look.
Mentally: I am focused on rowing… like all the time. Pictures everywhere. Kinda obsessed I guess. But it has also brought out the best in me. I have made so many friends, from the Pocock Rowing Center to the ambassador team of JLRacing, where I have made friends all over the world. I have a plan, goals, and work to follow the plan and achieve the goals. My coach is integral to this.
What's the biggest challenge you've had to overcome to row your best?
Fear. It's totally outside my comfort zone to be all alone out there in that skinny tippy little boat – in deep water. I have the fitness, the competitiveness, the drive, dedication and discipline. It's the fear factor, that fights with achieving comfort in the boat so that you don't have a death grip on the oars. I need to relax and just let the boat do its thing. 
What are the biggest life lessons you've learned from rowing?
It depends. Literally. Everything "depends." How is the racing going to go this weekend? It depends – on wind, on who signed up for what event. What shape are they in? Did I eat right? Warm up enough? Am I going to practice tomorrow? It depends on wind, tide, water temperature. Am I going to workout? It depends – is my body telling me to take a break? That's the other HUGE lesson. LISTEN TO YOUR BODY. I'm not 25 any more. My body gets tired faster, and takes longer to recover. I have to take a complete day off once a week, and now and then, take two. And sleep. Sometimes it's ok to skip a practice, even when the conditions are great, just to rest. In fact, it's essential. 
What inspires you to keep rowing?
I love it. The feeling of the boat gliding under you… those rare moments when everything works well and you feel like an expert. And just being out there on the water on Penn Cove or the Harbor – so quiet and I can just "be." Rowing is a sport where you can work a lifetime to achieve your goal. There is always something to learn. So I work with my coach to make a plan for the year, and work towards it. I have years of goals left, so there is no reason to stop. 
What club or team are you currently rowing with?
I currently row with the Masters Sculling Team at Pocock Rowing Center. Also I am starting a club: Rowing on Whidbey. 
What do you like most about rowing a single or with others?
Each boat has its own character. An 8 is the ultimate team – when it is in sync, it's like singing perfect harmony in a huge choir. A 4 is a balance exercise, and you all have to be in tune with each other. Quads can be tricky because as scullers, many of us row alone a lot, so putting 4 scullers together you really have to adjust what you do to fit in with the other 3. A 2x is a sweet spot for me. I love that feeling of being in sync with the other rower. Like we are connected. A single is a special animal. You are cox, stroke, bow person, power, and coach all at once. You can only point fingers at yourself if you screw up. It's very challenging, and also very rewarding. And when rowing alone on the cove it's also very relaxing. I can do any workout I want, do whatever drills over and over. 
What are you currently working towards as a rower? as a competitor?
As a rower my current goal is to get my technique better. I'm really close to being moderately happy with it. It still comes and goes. Competitively my goals this year were to 1) win a gold in my boat (achieved at Northwest Regionals); and 2) start head racing. This latter is definitely outside my comfort zone. I have just managed to make it down the lane and not hit a buoy. And now I'm going to try and row hard and follow a curved course? Yikes.
What advice do you have for other women rowers?
Don't stop making dreams and going after them. 
If you'd like to share your story in our "Amazing Women Masters Rowers" series, please email contact@whywerow.com.